At Thanksgiving I was unable to take pictures of the whole "Holiday Dinner" thing as my house was full of company and I was a bit busy. Easter dinner was more laid back - which means I have a blog post for you with pictures and recipes!
For Easter Dinner I made: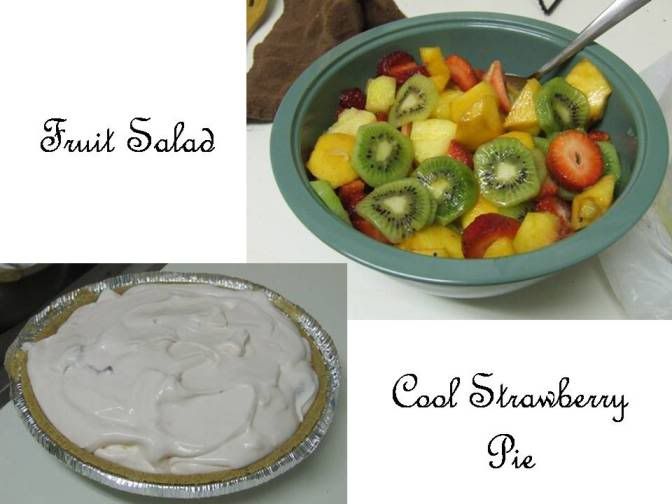 We'll start with the chicken. It was pretty easy.
First - prepare the following ingredients to stuff in a 3lb whole chicken.
3 lemon halves
1 small onion, quartered
1/4 cup chopped fresh rosemary
1 clove of garlic, pressed
ground black pepper
kosher salt
Rinse chicken. Rub chicken with olive oil, sprinkle with kosher salt, ground pepper, and rosemary. Stuff cavity with above ingredients.
Place chicken in roasting pan and surround with baby carrots and potatoes. Cook for approximately 2-2 1/2 hours at 350 degrees.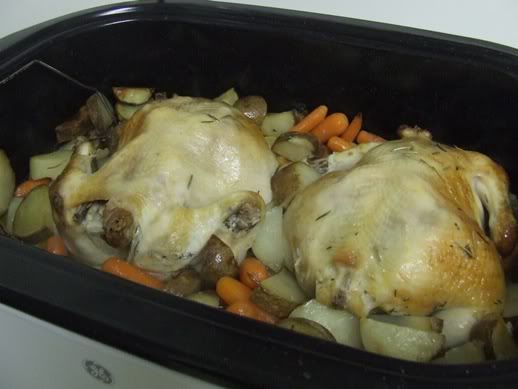 I made two because my roaster is so large -the leftovers will be fabulous turned into different things this week. I also set out lemon wedges to squeeze on the chicken. It was all very good!
Next - Zesty Asparagus
1. Trim off tough ends of the aspargus.
2. Blanch in boiling water for 60-90 seconds
3. Plunge into cold water.
4. Place asparagus in bag and pour 3/4 cup balsamic vinegar dressing into the bag.
Marinate overnight, turning occassionally.
To serve - drain excess dressing into a small bowl. Arrange asparagus onto a serving dish - sprinkle with ground pepper, kosher salt, fresh parsley, and lemon zest.
The fruit salad is easy enough: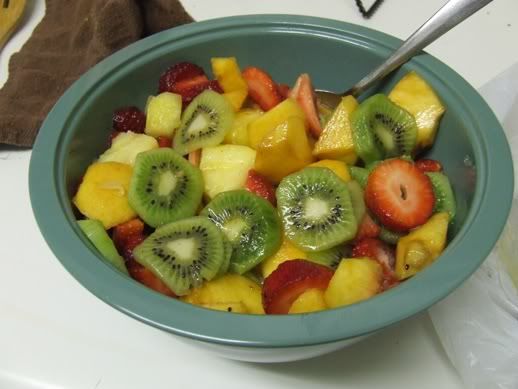 Simply cut up pieces of your favorite fruits and mix together. (I used pineapple, peaches, kiwi, and strawberries.) If you are preparing in advance - store fruit in seperate containters until just before serving so that the fruit juices do not mix and become one weird fruit - - but retain their individual flavors. I also put in two small packets of splenda because the strawberries and peaches were not all that sweet.
Leftover fruit salad was frozen into smoothie-size portions to enjoy at a later date.
This is the world's easiest dessert:
And then put it all together for a lovely spring feast:
In the end - - the cat wonders where all the food went