This is my idea for an entertainment center for my living room that I sketched out:
What do you think? (yes, my TV is that small) The funny looking ones with the box in the center is an open cube. The back panel will be painted brown and the insides blue.
I"m painting it to match my curtains/other accents in the room -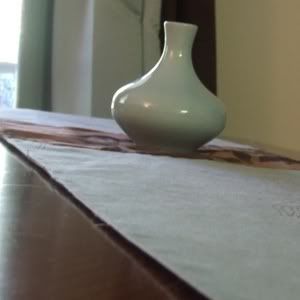 It'll probably be the table runner that will be taken to the paint store for a color match.
I found some pre-assembled unfinished cubes that are open/with a door/with drawers that I could buy. It'll be a bit pricey to get all of them - but I'm thinking that may be the easiest route. If I try to nail cubes together they won't be pretty. I'd like for it to be my summer project but I don't think I'm going to have the money/time to get it finished that quickly.
What do you think?